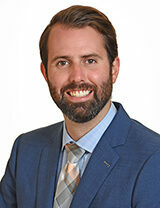 Dr. Pratt is a Connecticut native, growing up in nearby Higganum, CT.
He received his undergraduate degree from the University of Connecticut-Storrs, graduating magna cum laude with a bachelor of science in biology. He attended medical school at the University of Connecticut School of Medicine, graduating with honors in 2014. He went on to attend an Internal Medicine internship/residency at Boston University Medical Center and stayed on to work at Boston Medical Center as a hospitalist for the year following. He returned to Connecticut to complete his Gastroenterology fellowship at the University of Connecticut Medical Center, graduating in 2021.
Dr. Pratt joined our practice following the completion of his Gastroenterology fellowship. He practices general Gastroenterology, with a specific interest in disorders of the esophagus, including gastroesophageal reflux disease, swallowing disorders, eosinophilic esophagitis, and Barrett's esophagus, as well as inflammatory bowel disease, diseases of the stomach/small intestines, and colorectal cancer screening. He is trained in assessing conditions affecting the upper, middle, and lower GI tracts, using upper endoscopy, colonoscopy, and video capsule endoscopy.
He has published several articles in peer-reviewed medical journals. He is a member of Alpha Omega Alpha honor medical society, the American Gastroenterological Association, the American College of Gastroenterology, and the American Society of Gastrointestinal Endoscopy.