Angelo H. Paredes, MD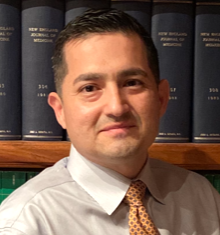 Dr. Paredes, a Queens NY native, came to us from Brooke Army Medical Center in San Antonio, TX, after a fourteen-year career as an Active-Duty Medical Officer in the US Army. After completing his undergraduate degree at Cornell University, he obtained his Doctor of Medicine at Georgetown University in 2006. He completed his Internal Medicine Internship, Residency training and Gastroenterology Fellowship training at Walter Reed Army Medical Center. He then spent a year in the Transplant Liver Program at Virginia Commonwealth University learning to care for patients with advanced liver disease.
Following his Fellowship training, Dr. Paredes became the Hepatology Section Chief at Brooke Army Medical Center. He has an accomplished background in research, with more than 25 scientific peer reviewed publications, and more than 50 presentations at international meetings. During his time in the Army, he participated in a medical mission to Honduras (2007), and served overseas in Iraq (2009-2010). He was Honorably Discharged as a Lieutenant Colonel in January 2020.
Dr. Paredes is board certified in both Gastroenterology and Transplant Hepatology and is an active member of the American Association for the Study of Liver Disease. His practice focuses on the management of liver cirrhosis, non-alcoholic fatty liver disease, autoimmune hepatitis, and viral hepatitis but he also enjoys caring for patients with the entire spectrum of Digestive Diseases.